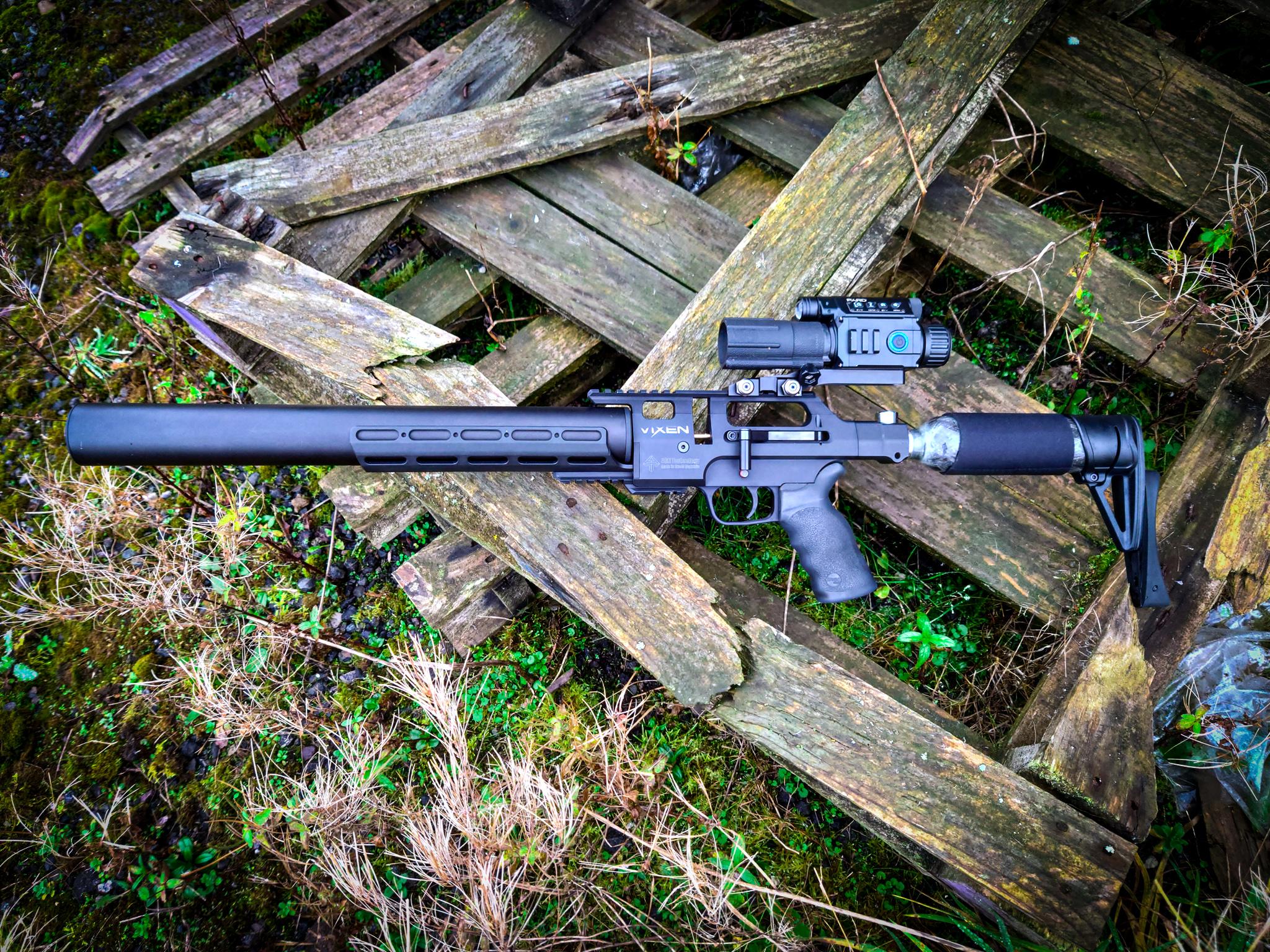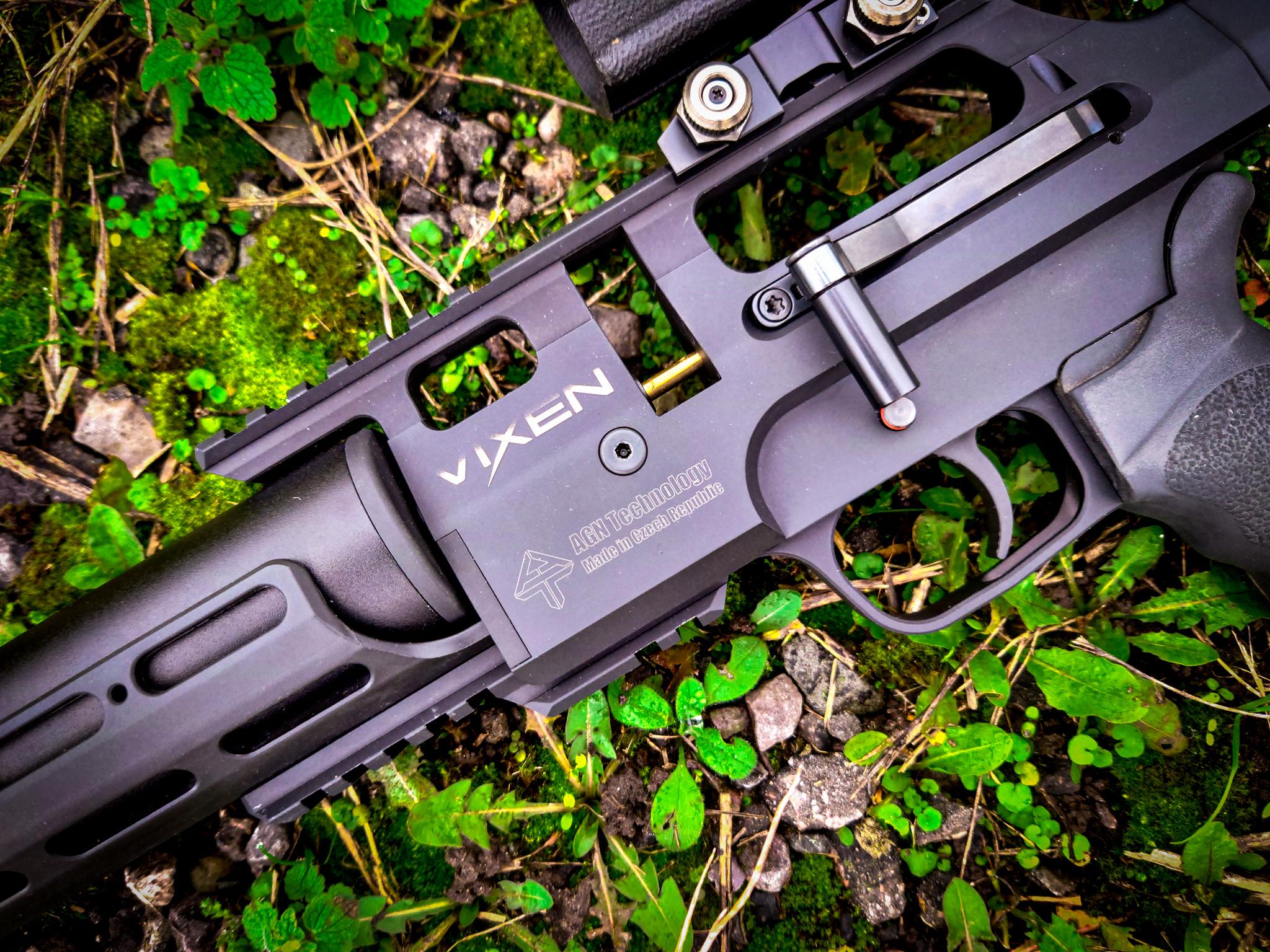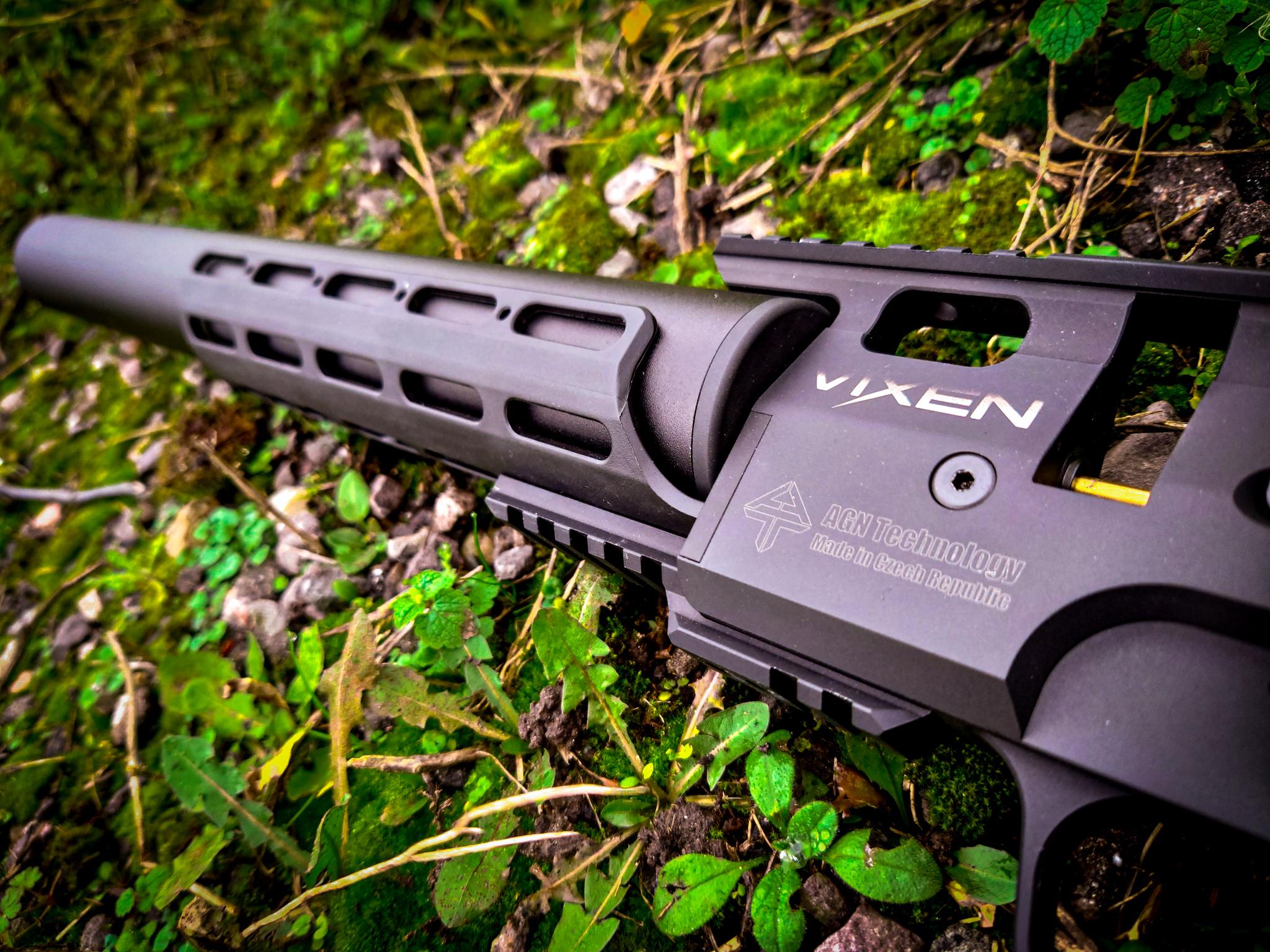 AGT Vixen Long .177
Overall.

The AGT Vixen is one of the most impressive out of the box rifles we have seen in a very long time at The RAT Works. The fully back flowed shroud over the barrel is very effective, easily the best we have ever seen from any manufacturer. The attention to detail AGT put into the fully adjustable sidelever action is noteworthy, there is a small detent that keeps the sidelever back when loading magazines, that feature alone is very useful as any shooter who has tried loading a magazine with the rifle pointing at the floor will tell you. It can also be configured from right to left in minutes for anyone preferring to shoot left-handed.

Overall the rifle is comfortable to shoulder and well balanced, especially when complemented with a smaller scope, something less than 44mm objective suits the fast handling superbly.

The design behind the rifle is clearly for higher power use than our UK 12fltbs limit, however the way the Vixen achieves its FAC performance also translates into one of the best 12ftlbs setups we have ever found in a production rifle once it is all setup for our legal limits. The fast action makes for minimal 'lock time' and very efficient air usage means hundreds of shots per fill from the small 250cc carbon bottle with it's well designed regulator and 300bar fill pressure.

The stock

With the bottle rear mounted on the Vixen the buttpad/cheekpiece is adjustable in rotation, with the bracket nipped up on the bottle. The buttpad itself is adjustable downwards to allow a good fit into the shoulder. This allows the stock to be suited perfectly to the shooter allowing positive eye/scope alignment with a good head position.

We recommend using medium or high mounts with the Vixen and your chosen scope.  The short stepped Weaver/Picatinny accessory rail tightly follows the contours of the action and barrel shroud, with a guard at the front which is more for aesthetics over form as it carries across from the tactical styling. It would be a perfect mounting point for a torch or bipod if required.

The pistol grip is basic in shape but soft touch and textured for a secure hold, possibly something to swap out for one of the AR15 compatible grips that are widely available if you have large hands or prefer a more formed grip. Overall the Length of Pull is not too short, coming in at around 14"unlike most tactical style rifles.

Trigger
The trigger unit has 3 adjustment screws, a first stage length, first stage weight and second stage let off adjustment, these can be set to your preference, we set the triggers for a safe and responsive let off as part of our RAT Works setup to allow a perfect let off to keep your groups tight. The safety is a push through style that blocks the trigger sears from moving, always a sign of a well thought out trigger unit!

Barrel
The barrel is a hammer forged CZ, with an inset probe seal, meaning smooth loading of the magazine and bolt cycling with minimal chance of damaging it in use. The barrel is quickly and easily removeable for cleaning if ever required, with an indent for correct refitting. With the rifle we tested on the range, we were shooting ½" groups at 50m within 2 magazines of JSB Heavies, definitely worth a try in CZ barrels!
Brand: AGT Technology
Available Calibres: 4.5 mm / .177

Fill pressure (bar / psi): 300 / 4351
Magazine Capacity: 15 shot .177, 
Safety: Yes
Weight (KG): 2.3
Barrel Length (mm): 250mm (Short) / 400mm (Long)
Total length (mm) : 770mm (Short) / 920mm (Long)
Mounting rail type: Weaver / Picatinny
Stock: Ambidextrous
In the Box: Gunbag, 2 Magazines, Fill probe


SHIPPING DETAILS
Once you have purchased the rifle of your choice you can either come over to us and pick it up or we can ship it out.
We are unable to ship any form of firearm directly to you, due to the firearms act of 2006.
This means you must give use the details of your nearest RFD or Gun shop.
To ship firearms we use Parcelforce courier service incurring £32.50 carriage on top of your purchase. Your RFD or Gun shop may choose to add a handling fee at their discretion. 
Not all rifles are keep in stock and most are ordered in. Due to the Covid-19 outbreak there is a wait time on different rifle manufacturers. Please get in touch with us for more information. 

When you are placing an order for a RAT Works edition rifle during the check out process you will be asked to either Pay Now or Pay Later. If you want to pay in full click pay now. We will class paying in full as paying the deposit. If you would like to pay a £150 deposit for us to reserve/order your chosen rifle then click pay later. Once we have received your order we will send you a invoice for the deposit then once this is paid the rifle will be reserved / placed on order. The Deposit is taken off your final payable amount. 
See our Terms and conditions for more details. 
Sorry we're out of stock
We can let you know as soon as it's available again, enter your email address below.