Warranty Repair

Do you have an issue with your air rifle?

Before you click on the form below, firstly make sure that you have read the rifle care guide. If this has not been followed then you will have voided the warranty the air rifle would have had when it left us. This guide is there to ensure the air rifle carries on working for many years after it has left us.


Please make sure you read through the rifle care guide and the warranty section in our terms and conditions before proceeding. If you have followed both and you still have an issue please make sure you check the following things, before contacting us.



Air rifle is leaking

- Fill the air rifle up to maximum fill pressure and leave it for an hour to cool down.
- If the air rifle is empty you may need to cock the air rifle first before filling. Please note: make sure that you remove the magazine and make sure that their isn't a pellet in the breech while you are doing this.
- If you can hear the air leaking out while your filling it, try and identify where it is coming from and take a photo of the area it is coming from (Taking the stock off on some air rifles may make this easier to identify)
- If there is no noticeable leak then please follow the instructions below.


- After an hour, mark the gauge with some tape and take a photo of the gauge. Please make sure you take the photo face on to the gauge and not at an angle.
- After 24 hours check the air rifle and take another photo to see if the gauge has moved. Please make sure you take the photo in the same position and angle as the first photo.
- If the gauge has moved please click the form at the bottom of the page, make sure you upload the photos of your gauge to the form before you send it to us.

Accuracy issues

- If your groups have become larger or wilder, with the pellet you were using previously, then please make sure you have read through the rifle care guide section on pellet choice. If you have had a regulator fitted to your PCP or a different piston seal fitted on your spring rifle, then the air is delivered differently behind your pellet when firing the air rifle, which can mean the pellet preference of the air rifle can change and pellet testing with different pellet brands/weights/die numbers is advised.

- If you experience any accuracy issues while using a digital scope or scope add-on, then we strongly recommend swapping back to an ordinary scope to check the accuracy of your groups.

- If you are experiencing any accuracy issues with a ordinary scope then, if possible, try a different scope on the air rifle, just to rule out any possible with that scope.

- Alongside any of the above points, please also make sure that:
- The scope is mounted to the air rifle correctly and securely.
- The scope is level on the air rifle once mounted.
- If you are getting shots go left to right or right then left this can be down to inconsistent head position behind the scope causing your POI to shift, this is why cheek weld is important to give repeatable accuracy.

- If you determine you have an accuracy issue then please include targets you have shot, noting what distance and pellets you used with the air rifle when sending it to us or dropping it off. We will also need the same pellets you were using as well so we can repeat the testing thoroughly.

Power output issues

- All sub 12 air rifles are set up by us, using JSB Exact Heavies 10.34gr in .177 or JSB Exact Jumbo 15.89gr in .22 as these produce peak power.
- We set your sub 12 air rifle to between 11.4-11.6 ft/lbs using these pellets, so you won't ever go over 12 ft/lbs, with any available ammunition or with any change in temperature, as this can also cause your power output to go up or down by 2-3% in velocity which is enough to go over 12.
- Because we use these pellets to set your power DOES NOT mean your air rifle will now prefer shooting them.

- If your air rifles preferred pellet is not what we use to set the over with, then your power output will be lower than the one stated on your air rifle report. As long as the pellet is still accurate there is no need to alter or increase the power unless it is extremely low, which is unlikely.

- If you still believe there is an issue with your power output please use a 'light gate' chronograph to check the power out put, such as a SKAN chronograph which we, and the police use. We advise against using chronographs that are attached to the end of the barrel and as stated in our terms and conditions we don't accept results from an FX radar, although these are fine as a guide they are unreliable in terms of accurate chronograph results we are looking for for diagnostic purposes.

- Please attach your results to the form when you submit it or email them to us after the form has been submitted.

Other issues

If you have another issues that is not stated in any of the above sections then please click and fill out the form below and we will get back to you about the issues you are currently experiencing. Please use the relevant boxes on the form to describe in as much detail as possible what the issue is so we can get you shooting again as quickly as possible.


Please fill out the form below once you have read the information above. If you submit the form without reading the information we will redirect you to this page.

If your rifle is returned to us and we find no fault you will be charged for the investigation work and potentially return postage. This is unlikely if you have followed the above steps, which is why it is important to work with us and we can resolve any issues as quickly as possible.

Please allow 2-3 working days for us to contact you, we will most likely ring you to discuss the issues so please include your phone number.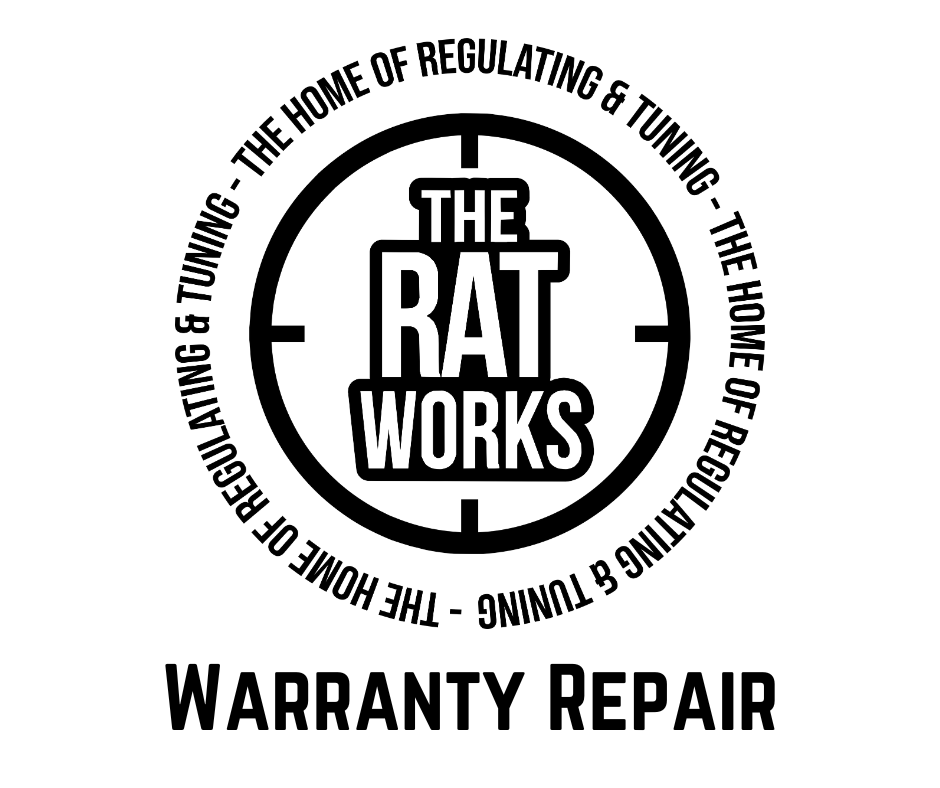 This is for previously RAT Works tuned/serviced air rifles ONLY!Please use the boxes below to complete the warranty repair form. In the relevant boxes...
£0.00
View details